Dallas Hope Charities unveils renovations to Dallas Hope Center made possible by Dwell with Dignity, Mercedes-Benz Financial Services USA, MCS, SHINEscapes, and U.S. Bank.
DALLAS – April 19, 2023
Dallas Hope Charities (DHC), a 501(c)(3) public charity organization providing food, shelter, and services to LGBTQ+ youth, unveiled major transformations to their Dallas Hope Center on Friday, Apr 14, 2023.
The home transformation began with U.S. Bank providing the crucial funding for the construction work, completed by MCS – a leading property services company, with SHINEscapes – a DFW-based landscaping company, performing the outdoor renovations. the transformation was perfected with design and personalization of the interior living spaces from Dwell with Dignity and Mercedes-Benz Financial Services USA.
The Dallas Hope Center is an LGBTQ-focused transitional living program for homeless youth ages 18-24. During the 12-month program, residents are provided a safe, welcoming environment and basic needs where they can learn important life skills necessary to successfully live independent lives. Before the transformation, the Dallas Hope Center was in dire need of updates and repairs. Chief Executive Officer, Tamika Perry, stressed that "beds were broken, blinds were taped up, there were leaks, structural issues, and more".
One of the eight current residents could not believe that individuals they had never met would care about them, stating, "I appreciate that others are supporting me in a way that allows me space to learn and grow in a safe environment."
"This is the first donation and partnership under our new Home Pride initiative, focused on securing stable housing for LGBTQ+ youth who are experiencing homelessness. The consequences of homelessness for LGBTQ+ youth are devastating, " said Senior Vice President, Head of Consumer & Mortgage Default Operations at U.S. Bank, Douglas Whittemore. "This program is designed to help young people that are often forced to leave their homes due to rejection, discrimination, and abuse from their families and communities. They are left without a support system, without a safe and stable place to call home. It is our goal to scale this program, not only in DFW, but to other states outside of Texas as well.
"Home Pride is in addition to our community outreach programs assisting military veterans. We have made, in total, 100 donations to military families over the past decade, including 23 mortgage-free homes through our Housing Opportunities after Military Engagement (H.O.M.E) program. Now, we are extending beyond to include investments in refurbishing properties to help these young people. We are grateful for the work DHC is doing in the Dallas area and excited for this partnership."
Jennifer Harrison, Senior Manager, Operations at Mercedes-Benz Financial Services USA LLC, said "All of us at Mercedes-Benz Financial Services USA are so happy to see that our relationships with Dwell with Dignity and Dallas Hope Charities became the catalyst to help create a new and welcoming home for the Dallas Hope Center residents. Having a comfortable and safe space to call home allows these residents to move forward in their lives with confidence and pride."
"When Dwell with Dignity transforms a space, we often see not only physical improvements but also behavior changes. For example, their mental health improves, and their employment opportunities increase. Through our work with families and communities across the Dallas-Fort Worth metroplex, we know that by building a beautiful foundation, you can permanently change lives." Ashley Sharp, Executive Director at Dwell with Dignity.
Images captured by Cameron Spooner Photography.
Images below can be provided in high-resolution versions for print upon request. Additional photography and interviews are available. Contact Ciera Oates, Manager of Marketing and Operations, Dallas Hope Charities, at coates@dallashopecharities.org.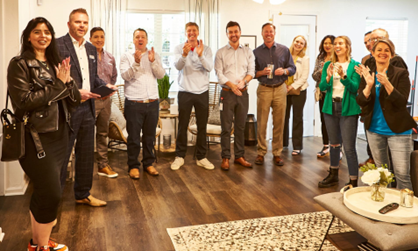 About Dallas Hope Charities
Dallas Hope Charities is an independent 501(c)(3) public charity organization uniting to care for those in need throughout our social community, geographical community, and beyond and operates Hope Center, Dallas' LGBTQ-focused homeless youth transitional living center and extension program. The Hope Center offers a safe environment for youth 18-24 years of age where they learn essential life skills necessary to successfully live independent lives.
Dallas Hope Charities offers an LGBT-focused basic needs resource hub, Collective Hope Coalition; works with the Dallas Police Department through the Safe Place program to spread awareness and education in the community by encouraging victims to report ALL crimes, especially hate crimes; and offers Hopeful Discussions, a series that is geared toward reducing homophobia. More information at www.dallashopecharities.org.
About U.S. Bank
U.S. Bancorp, with approximately 77,000 employees and $682 billion in assets as of March 31, 2023, is the parent company of U.S. Bank National Association. The Minneapolis-based company serves millions of customers locally, nationally and globally through a diversified mix of businesses: Consumer and Business Banking; Payment Services; Corporate & Commercial Banking; and Wealth Management and Investment Services. Union Bank, consisting primarily of retail banking branches on the West Coast, joined U.S. Bancorp in 2022. U.S. Bancorp has been recognized for its approach to digital innovation, social responsibility, and customer service, including being named one of the 2023 World's Most Ethical Companies. Learn more at usbank.com/about.
About Mercedes-Benz Financial Services USA
Mercedes-Benz Financial Services USA provides finance, lease and insurance services for the dealers and customers of Mercedes-Benz cars and vans sold in the United States. We are a member of the Mercedes-Benz Mobility group of companies, which is the financial and mobility services division of the Mercedes-Benz Group.
About Dwell with Dignity
Founded in 2009, Dwell with Dignity is a Dallas-based nonprofit organization with a mission to transform lives through design by providing and installing interiors for family homes and community spaces. Dwell with Dignity empowers families to lead their best lives and to thrive in a safe, functional, and beautiful environment. Dwell with Dignity has completed over 225 home design projects and 40 community spaces, and in 2022 the organization served more than 14,000 people through their home and community projects.
About MCS
MCS is a leading property services provider working across Commercial Properties, Single-Family Rentals, and the Property Preservation industry. For over 35 years, MCS has been committed to responsive care, industry-leading service standards, leveraging technology, and end-to-end transparency to protect, preserve and serve communities across the country. Some of the largest and most respected mortgage servicers, real estate owners and operators, and corporations trust MCS to perform property inspections, preservation, maintenance, renovations, and other property-related services. Learn how MCS is Making Communities Shine at mcs360.com.
About SHINEscapes
SHINEscapes provides comprehensive commercial landscaping services with exceptional customer service. SHINEscapes' primary offerings include lawn, tree and flower care; irrigation maintenance; general exterior maintenance and repair; and parking lot services. SHINEscapes is located in Carrollton, TX, and serves the Dallas-Fort Worth metroplex and is expanding into other major markets across Texas. For additional information, visit www.SHINEscapes.com.